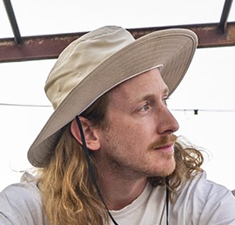 In between his three albums, rapper Asher Roth has released several mixtapes, including 2011's Pabst & Jazz and his The Greenhouse Effect series. The third entry in that series, The Greenhouse Effect Vol. 3, hit streaming services on September 3, 2021.
But there's something about his latest mixtape that makes it unique from every album, EP, and mixtape he's released so far: It was a collaboration with his online community of fans and supporters.
As Asher contemplated making music during the COVID-19 pandemic, he came up with an idea: What if The Greenhouse Effect Vol. 3 was "entirely produced by fan/friend/follower submissions?" He set up a Discord, and off they went. He'd post acapellas – audio clips of only his vocals – and community members would produce song submissions, which Asher would review live on Twitch. The project would adopt a narrative story, adding guest verses from the community, too.
With the mixtape out, Asher stops by to talk about the collaborative process behind the release, the tools he used, and the community building lessons he learned along the way. One of the great things about this story is that the creation of this mixtape has helped birth an active online community, which Asher hopes will foster further collaborations between members.
Asher and Patrick also discuss:
How guardrails help encourage sustained creativity
Why Discord?
Now that it has achieved its first big goal, what's next for the community?
Continue reading

"While Making a Mixtape, Asher Roth Built an Online Community"