Community Signal is a podcast for online community professionals, released every two weeks and hosted by industry veteran Patrick O'Keefe. It's not an interview show, but a conversation between an experienced host and a carefully-selected guest.
This is a very community-focused program. There are plenty of social media and marketing podcasts out there. That's not what this is. Social media is set of tools. Community is a strategy you apply to those tools. Marketing brings new customers. Community helps you keep them.
About the Host
Patrick O'Keefe has been managing online communities since 2000 and is the author of Managing Online Forums, a practical guide to managing online communities and social spaces. He writes about the profession at ManagingCommunities.com.
Patrick has spoken about community for CNN, Dell, FedEx, South by Southwest, Australian National University, Northwestern University and Arizona State University. He has been cited for community management expertise by the media (Entrepreneur, WebProNews, Convince & Convert, Social Media Explorer, local CBS, NBC and ABC affiliates), and in dozens of books and academic papers.
About the Producer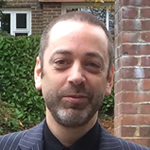 Karn Broad has been working in web design and development for over a decade, and in the audio industry for over two decades, as a sound engineer and session musician. Producing a podcast about online communities brings these two passions together.
He previously served as producer of the award-winning SitePoint Podcast, which Patrick co-hosted. Karn is both pleased and proud to have joined together once again for Community Signal.
About the Editorial Lead
Carol Benovic-Bradley is a community professional from and based in New York City. She is currently the director of community operations at Pilotworks, where she is helping food entrepreneurs achieve their business goals. Carol also moonlights as a contributor to WeSupport NYC and #InternedUp. When she's not working on those things, she can be found riding her Peloton, playing Overwatch, or watching wrestling.