Community Signal is a podcast for experienced online community professionals, including those working in audience engagement, association management, developer relations, moderation, trust and safety, and more. It's released every two weeks and hosted by industry veteran Patrick O'Keefe.
This is a very community-focused program. There are plenty of social media and marketing podcasts out there. That's not what this is. Social media is a set of tools. Community is a strategy you apply to those tools. Marketing brings new customers. Community helps you keep them.
About the Host
Patrick O'Keefe has been managing online communities for 20+ years and is the author of Managing Online Forums, a practical guide to managing online communities and social spaces.
He's an experienced strategist and designer of online community products and programs, who has scaled diverse, global teams, measured financial impact, driven revenue and community action, guided product development roadmaps, and created safe, impactful community spaces. Patrick has provided strategy to CNN, FedEx, Sony, Cisco, NOAA, and Forbes.
About the Producer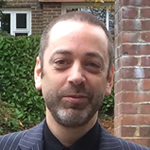 Karn Broad has been working in web design and development for over a decade, and in the audio industry for over two decades, as a sound engineer and session musician. Producing a podcast about online communities brings these two passions together.
He previously served as producer of the award-winning SitePoint Podcast, which Patrick co-hosted. Karn is both pleased and proud to have joined together once again for Community Signal.