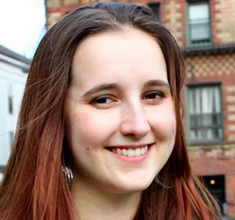 Emily Temple-Wood joined Wikipedia at 12, and became an administrator at 13. In 2016, she was honored by Wikipedia co-founder Jimmy Wales as Wikipedian of the Year. For nearly her entire time on the site, she has dealt with obscene, personal abuse.
"People have been harassing me since the first vandal figured out I was a lady," Emily told Wired earlier this year. "Which was within a month or so of my joining the site." She has turned that abuse into motivation, increasing the quantity and quality of women's biographies on Wikipedia, through efforts like WikiProject Women Scientists.
On this episode, we talk about the abuse Emily has received, and how it has changed over the years, along with her methods of dealing with it. Plus:
The incredible contribution of teenagers to online communities and collaborative platforms
Why Wikipedia spoke to pre-teen Emily
Is there more that Wikipedia should be doing?
Continue reading "The Cost of Being a Prominent Woman on Wikipedia – and Online"