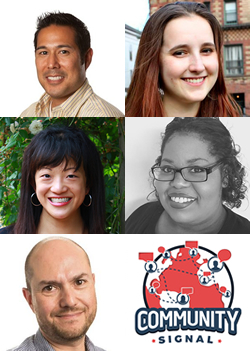 Consider this episode of Community Signal your community career advisor on speed dial. If you're looking for a new job, growing your team, or thinking about your career advancement options, Patrick,
Daniel Marotta
,
Jenn Chen
, and
Marjorie Anderson
share great advice and observations from their own career journeys.
What skills and experiences created the foundation for your career in community management? [2:04]
"If you marry customer service with website release management and content management… those [skills] are the basis for a great community manager." –@massmarotta
"[Don't] just cut and paste a response from some template that your company printed out. Put a little bit of yourself in your responses. Build up a personality that really shines through with how you correspond with your member base." –@massmarotta
What makes a good community management job and what warning signs should you look for as you consider new opportunities? [4:42]
"A good community role is one that's actually community, that's really about connecting members or customers with one another and not just broadcasting from the brand perspective." –@patrickokeefe
"There has to be buy-in for actual community work at the organization. … It's really about an organization that understands the value [of community] and isn't going to place a burden on community that isn't placed on other departments." –@patrickokeefe
Will having an in-house platform and resources make your job easier? [16:06]
"Being blocked by what our platform could or couldn't do was a bit of a challenge as a community manager. … A lot of times, you want to advocate for your users, you want what's best for them, you feel like there's a great need, but your hands are literally tied, and as a community manager, you have to be very careful about how you communicate that. … The exciting thing with building our own platform is that the sky's the limit. I can think of all these different features that would be beneficial to the community … evaluate it from all perspectives, and then we can either implement it or put it down on the roadmap." –@jenntothechen
What's the career trajectory for community professionals? [20:43]
"It was tough to find a [community] role where I felt like I was moving up and taking a positive career step. I'd say 1 in 10 [roles out there] are senior roles. … I was okay with [any] title as long as I was top of the department and building something good." –@patrickokeefe
"[The] role of community manager has a wide salary [and experience] range. [According to the Community Roundtable's last research study, the] community manager [salary] was an average of $70k, but the range is over $100k. … There are some [amazing] community managers with tons of experience who are well paid. They just don't have [a senior] title." –@patrickokeefe
"I don't need the title of community manager. I don't necessarily even need a title that says I'm head of community but what I want to do is continue to contribute to the space, and that's what's important to me." –@MarjorieAyyeee
This episode of previously unreleased clips also includes:
Emily Temple-Wood on how community has the power to make room for all voices
Dave Cayem on sustainable community metrics and the importance of a viable community mission
If you'd like more behind the scenes clips and the chance to contribute potential questions and conversation topics to the show, please consider backing Community Signal on Patreon.
Our Podcast is Made Possible By…
If you enjoy our show, please know that it's only possible with the generous support of our sponsor: Higher Logic.

Big Quotes
"You can be the greatest community professional in the world but if you don't have resources and support, you're just not going to be effective, you're not going to be as successful as you can be." –@patrickokeefe
"Wikimedia found out the hard way that when you focus too much on tech, you neglect the human element, and you lose a lot of what makes your community special. … You need things like invitation culture and funding community members to do cool stuff; simple things like in-person meetups and conferences. All the best stuff that any of us have done has come from just being together in a space and [feeling] safe throwing some spaghetti." –@keilanawiki
"Community guidelines shouldn't just create this idea of everyone being the same. They create a baseline for us to respect each other and be productive." –@patrickokeefe
"You have to get that intersection between community mission and user need, and you have to figure out what that community mission is before you launch your community." –@davecayem
Related Links
Transcript
Your Thoughts
If you have any thoughts on this episode that you'd like to share, please leave me a comment, send me an email or a tweet. If you enjoy the show, we would be so grateful if you spread the word and supported Community Signal on Patreon.
Thank you for listening to Community Signal.