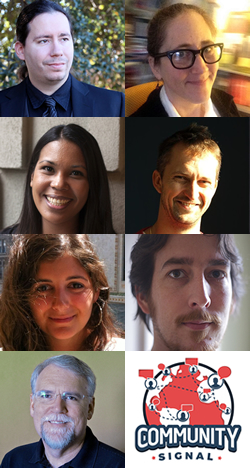 Can you recall the community-related news and trends of last summer? Let us refresh your memory.
YouTube announced new guidelines for advertisers that inadvertently led to significant changes in revenue for many creators on its platform. Photobucket broke countless images across the web without notice. The city of Charlottesville, Virginia was descended upon by white supremacists during the violent, hateful, and deadly Unite the Right rally, yet Twitter still gave them (and still gives them) a place to convene and organize online.
These topics were covered on Community Signal as they happened and this week's episode is a gathering of unreleased clips from last summer. These were originally released to our Patreon supporters between July and September of 2017. If you'd like more behind the scenes clips and the chance to contribute potential questions and conversation topics to the show, please consider backing our show on Patreon.
In this compilation, you'll hear from Jonathan Bailey, Jessamyn West, Christina Shorter, Alessio Fattorini, Lilah Raptopoulos, Josh Millard, and Randy Farmer.
These clips touch on the events mentioned above, the following topics, and more:
Having a backup plan when you rely on third-party software
Creating a culture of reciprocity in support communities
The goldmine waiting for journalists in the comments section
Continue reading "Never Put All of Your Eggs in One Community Basket"