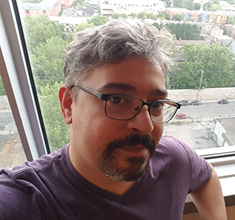 Gaming is a vertical that has a massive footprint in the online community space. Gamers took to online communities really early, and have been using online tools to connect for as long as pretty much anyone else.
But gaming communities aren't always known for being the most thoughtful. That's what Gabe Graziani, senior community developer at gaming giant Ubisoft, hopes to see in the communities he works with. After spending six years building out the Assassin's Creed community, Gabe is now working on Tom Clancy's Rainbow Six Siege, a title that features a much more competitive community.
How does that affect the age-old community problem of making new members – or, as a stereotyped gamer might say, newbs – feel welcome? Plus:
Ubisoft's community structure
The community leader approach to measuring the value of community
Inclusivity through removal
Big Quotes
"What I like to say, about this community work that we do, is there should be a good-sized portion of it that's observation, where you're not necessarily saying anything. You're just paying attention to what other people are saying and making sure that you understand the core of what people are talking about." -@UbiGabe
"When I started working on a brand that had people [in the community] who were producing art around it, I was like, 'Well, we can't use this without some sort of payment being involved.' You pay for the art. … The thing is that we're also creators, so we want people to pay for our games so that they can play them. It only makes sense to be on the side of the creator, from that perspective." -@UbiGabe
"Just because someone is really passionate about the game and really loves the company, and really has a lot of great things to say, doesn't actually mean that they have the skills that translate to what community does." -@patrickokeefe
"The older a community becomes, the more it tends toward insularity, with members defending their status by wielding their knowledge or experience in negative and insulting ways designed to make newcomers feel intimidated." -@UbiGabe
"You never need to introduce negativity into a community. There's going to be plenty that just arises on its own." -@UbiGabe
About Gabe Graziani
Gabe Graziani started in the gaming industry over a decade ago as a graphic design intern at GamePro magazine, but has been working in community development at Ubisoft for the last eight years. Roughly six of those years were spent helping to build the Assassin's Creed community from a budding new IP into a welcoming and creative juggernaut of cosplayers, artists, livestreamers and content creators of all varieties.
Since leaving Assassin's Creed, Gabe has sought new challenges in the emerging virtual reality market, helping to launch Ubisoft's first games in the new medium including Eagle Flight, Werewolves Within and the soon-to-be-released Star Trek: Bridge Crew.
Now, Gabe has returned to triple-A with Tom Clancy's Rainbow Six Siege, which introduces new challenges in the esports field to this veteran of narrative-heavy action adventure titles.
Related Links
Transcript
Your Thoughts
If you have any thoughts on this episode that you'd like to share, please leave me a comment, send me an email or a tweet. If you enjoy the show, we would be grateful if you spread the word.
Thank you for listening to Community Signal.