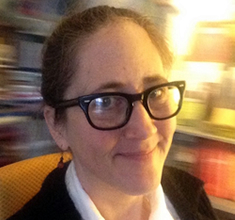 Jessamyn West
is a member of
mlkshk
, an online community that's closing. She's part of a community-led effort to build the next place where this group of people will get together.
Best known for her work in the library space, she's also an experienced online community practitioner, having spent 10 years on staff at MetaFilter, leaving as director of operations. Building on our recent discussions about the thoughtful way to close a community, we look at mlkshk as an example of a group that has done it right. Plus:
The differences and similarities between dying and being banned from an online community
Why it's easy for community members to love new ideas, but hard to get them to commit to helping make them real
The disconnect between wanting to be a moderator and actually being good at it
Big Quotes
"One of the things that happens with hobbyist communities, as opposed to giant corporate communities, is the person who's running it has to kind of love being there as one of the primary things in their life." -@jessamyn
"I like to joke that I've created 20, 30, 40 online communities just by banning people, where they get mad and they say, 'I'm going to create a new community.' I'm like, 'Okay. That's fine. Create your own thing. That's great. We just can't do that thing here any longer, because it's not what we're about.'" -@patrickokeefe
"For some people, I really do feel like the internet kind of flattens who we are to a certain extent. Not in a negative 'the internet isn't real' way, but just in a 'the internet can't tell you certain things about people you interact with, and some of those things may matter' way. It's hard to say it without sounding really judgmental." -@jessamyn
"It's so important for [some people] to not be judgmental about personality problems that you wind up with people who are borderline sociopaths, who are unmoderatable, just because people are like, 'Well, that's just how that person is.' You're like, 'Well, how that person is, is that they harass female Wikipedians.' You've got to make a choice, right? You just have to make a choice." -@jessamyn
"If you make a decision to leave [our community], that's your choice, and maybe you'll come back. You're welcome, even as a non-member, to talk to us about what the issue is. But for people within the community, they're like, 'The goal is that nobody leaves.' To me, that's like saying the goal is that nobody dies. Sure, that sounds like a good idea at some level, but realistically, if nobody died, there would be huge problems and, if nobody left the community, you would wind up with a stagnation that would be difficult in its own way, that the community is not supposed to be everything to everyone." -@jessamyn
About Jessamyn West
Jessamyn West is a librarian and community technologist who writes a column for Computers in Libraries magazine. She consults with small libraries and businesses in Central Vermont to help them use technology to solve problems and runs a regular drop-in time to help digitally divided people use technology. She is the author of Without a Net: Librarians Bridging the Digital Divide and is a frequent public speaker at library conferences throughout North America. She has a library newsletter and a blog.
Related Links
Transcript
Your Thoughts
If you have any thoughts on this episode that you'd like to share, please leave me a comment, send me an email or a tweet. If you enjoy the show, we would be grateful if you spread the word.
Thank you for listening to Community Signal.