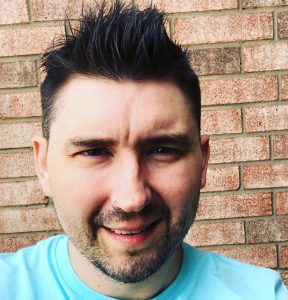 If you work in games, social media, or community management, then you know that running any communications or programming around conventions like E3 and PAX requires intense planning and coordination. Fresh off of his first on the ground activation at E3, Joe King, social media manager for GameStop, shares the ups and downs of working conventions and of working in games community management. He also shares his strategy for engaging with games communities whether he is walking the convention floor for the first time or covering the event on social media from a remote location.
Joe's career path into community management started with his love of games and quickly accelerated when he got creative with his resume. His advice for those looking to get into community management or any other field stands out: Start small, with tangible projects that can level up your skills.
Joe and Patrick discuss:
What Joe did to make his resume standout when he was applying for a community position at Gearbox Software
Why numbers don't matter when you're starting out as a streamer
How landing a "dream job" can feel simultaneously exciting and paralyzing
Big Quotes
Authentic content is a must for any community: "I really love [working with] influencers, because the really smart ones know that you shouldn't get caught up in your numbers for a while. Start your channel and then just start making things. Start streaming. … Then eventually, as your content gets better and better and more people see it, they're going to realize that it's authentic, and there's value in it. It's going to naturally grow [and] your audience is going to naturally grow." –@jauxking
Battling imposter syndrome when starting a new career path: "When I left [my first job in gaming], I realized that the amount of fear and anxiety that I was living with every day was crippling. … Then I left, and I realized that it was never about the job in terms of what I was doing, it was about the job in terms of what I had. I was so scared to lose it that I didn't have the confidence that I used to have. … It took leaving to get where I am now." –@jauxking
About Joe King
Joe King runs social media initiatives for GameStop. He is the former community manager for Gearbox Software and Gearbox Publishing, and has worked on such games as Borderlands, Battleborn, We Happy Few, Bulletstorm: Full Clip Edition, and many more.
He recently launched Just Press Start, a podcast in which he chats with friends in the gaming industry and adjacent disciplines about what they do, how they got started, and what advice they can offer others (including him!) on how they can best achieve their personal or professional goals, rooted in gaming or not!
Related Links
Transcript
Your Thoughts
If you have any thoughts on this episode that you'd like to share, please leave me a comment, send me an email or a tweet. If you enjoy the show, we would be so grateful if you spread the word and supported Community Signal on Patreon.