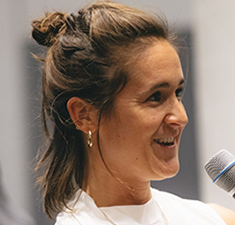 Communities are good for business, but are businesses good for communities? This question has come up on the show before, specifically when we spoke to community hosts losing their Yahoo Groups and when IMDb's message boards were closed and erased. What happens when corporation-led communities are determined to have outlived their usefulness to the corporation, but not to the members? Does this lead to more grassroots-led communities? How will the tools and examples we've created serve those grassroots communities?
Bailey Richardson, a community professional that helped build Instagram and recently co-authored Get Together, and Patrick address these questions on this episode, as well as:
The current community software landscape and why there's still room for growth
What happens when you need to demote or ban a community leader
Why graffiti is allowed on Instagram
Big Quotes
Not all interactions can infinitely scale (10:08): "When we left [Instagram], people on our team [asked], 'What's the one thing that we should remember?' Our response was treating people well on a one-on-one basis, on a very human level, I think does scale. Those interactions that you build that are deep touch interactions, I think actually can have a very big impact on culture, on a platform overall, and that's a principle that I think a lot of people try, as their businesses get larger, to do anything in their power to not do high touch things with a small number of people. … I participated in building one of the fastest-growing companies in the world. Some of what made the platform special was the fact that we met people who really cared about our platform where they were and got to know them and celebrated them." –@baileyelaine
How boundaries keep communities on track (17:40): "Sometimes the structure that you put in can help people actually access the value they want from you in the first place. … If I'm coming to your karate forum, I want to talk about karate. I'm not showing up to talk about politics." –@baileyelaine
When business goals outweigh community values (44:20): "There's something quite fragile about someone showing up for something that they care so much about that they contribute an outsized amount of effort to with very little expectation of any kind of financial or real reward in their life. … The thing that I worry most about is the reality of business is that ensuring those people's enjoyment, happiness, and respect is not the primary goal. … It's just painful to see them let down when you know the purity of the way they showed up for you, and when you can't match them with that, it's just a difficult thing to carry around." –@baileyelaine
About Bailey Richardson
Three years ago, Bailey Richardson started People & Company with Kai Elmer Sotto and Kevin Huynh, on a mission is to help people bring their people together. People & Company works with organizations to make smarter bets about investing in communities. They also interview extraordinary people organizers on their podcast Get Together, and in August 2019, they published Get Together, a book about how to build communities today based on the research and strategy work they've done with hundreds of community organizers.

Bailey was also one of the first 10 employees at Instagram, working on the community team. She has also worked for IDEO, StoryCorps, Pop-Up Magazine and The California Sunday Magazine, made a short film about a Pinoy inventor named Dado Banatao, interviewed Russians who are LGBTQ about what their lives are really like, asked Casey Neistat how to make and share videos people love, and started a Mola Mola Fan Club.
Related Links
Transcript
Your Thoughts
If you have any thoughts on this episode that you'd like to share, please leave me a comment, send me an email or a tweet. If you enjoy the show, we would be so grateful if you spread the word and supported Community Signal on Patreon.