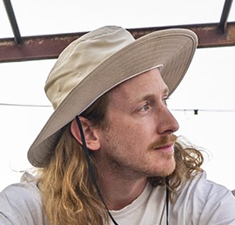 In between his three albums, rapper Asher Roth has released several mixtapes, including 2011's Pabst & Jazz and his The Greenhouse Effect series. The third entry in that series, The Greenhouse Effect Vol. 3, hit streaming services on September 3, 2021.
But there's something about his latest mixtape that makes it unique from every album, EP, and mixtape he's released so far: It was a collaboration with his online community of fans and supporters.
As Asher contemplated making music during the COVID-19 pandemic, he came up with an idea: What if The Greenhouse Effect Vol. 3 was "entirely produced by fan/friend/follower submissions?" He set up a Discord, and off they went. He'd post acapellas – audio clips of only his vocals – and community members would produce song submissions, which Asher would review live on Twitch. The project would adopt a narrative story, adding guest verses from the community, too.
With the mixtape out, Asher stops by to talk about the collaborative process behind the release, the tools he used, and the community building lessons he learned along the way. One of the great things about this story is that the creation of this mixtape has helped birth an active online community, which Asher hopes will foster further collaborations between members.
Asher and Patrick also discuss:
How guardrails help encourage sustained creativity
Why Discord?
Now that it has achieved its first big goal, what's next for the community?
Our Podcast is Made Possible By…
If you enjoy our show, please know that it's only possible with the generous support of our sponsor: Vanilla, a one-stop shop for online community.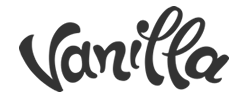 Big Quotes
Why the RetroHash Discord might put a cap on member count (10:42): "With these [major social media] platforms, they've grown so big. They're almost essentially black holes eating themselves. It's really hard for you to garner any attention without being extremely controversial. … Getting away from the biggest, best, largest, and fastest, and just concentrating on who's really paying attention and who cares seems to be working [for the RetroHash Discord]. Keeping it to a volume that is adaptable and able to move with the times is important." –@asherroth
When you're starting an online community, it's easy to get discouraged by the big numbers of other platforms (13:22): "When you look at YouTube views, if that gets sucked up into the right portal, you're talking about hundreds of millions of views, if not a billion. When you're comparing your online community to something like that, of course you're going to be like, 'This is never going to work.' … [But] if you think about it in real world numbers, if you're doing a show, and there are 1,500 people there, that's a lot of people. … [Conversion and retention rates are the] kinds of things I'm a little bit more interested in than the grand scheme, final tally. Those numbers are being a little bit gamed." –@asherroth
When you're starting an online community, it's easy to get discouraged by the big numbers of other platforms (25:01): "The easiest way to integrate other artists [into the creation of The Greenhouse Effect, Vol. 3] was to give them challenges, give them direction, and give them a role instead of just leaving it open for interpretation because that allowed me to really filter down who did this challenge the best." –@asherroth
With the mixtape done, what's next for the Discord? (37:33): "[On the RetroHash Discord], I would love to start to focus on specific artists. Artist development has always been something that I've been fond of. It's kind of disappeared. The music industry is pretty vigilant about getting young talent. You have a lot of these kids who are getting into the game at 16, 17, 18, 19 years old. They're pretty green and naïve to the ways. I've always been more than happy to be somebody that says, 'Look out for this. If you see this, this is what this means,' etc. [We can use] the Discord to focus on artists and use the producers, tools, and people who are there to help." –@asherroth
About Asher Roth
Asher Roth is a rapper who first achieved mainstream success with his international hit, "I Love College," and his debut album, 2009's Asleep in the Bread Aisle. His most recent album, Flowers on the Weekend, was released in 2020. Between his albums, Asher produced a run of critically-acclaimed mixtapes, including 2011's Pabst & Jazz, and his The Greenhouse Effect series. The latest edition in that series, The Greenhouse Effect Vol. 3, available on September 3, 2021, came together through an online collaboration with fans and supporters during the COVID-19 pandemic. Asher releases projects online under the brand RetroHash.
Related Links
Transcript
Your Thoughts
If you have any thoughts on this episode that you'd like to share, please leave me a comment, send me an email or a tweet. If you enjoy the show, we would be so grateful if you spread the word and supported Community Signal on Patreon.